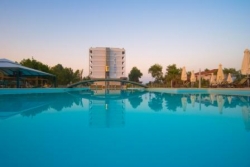 A place of entertainment and relaxation is waiting for you at Platamon Palace Beach Hotel & Spa, its elegant areas invites you to rejuvenate at the coolness of the indoor and outdoor pool and let yourselve enjoy the great variety of beauty SPA and EF ZIN.
Platamon Palace Beach Hotel & Spa is a modern luxury Hotel situated right on the wide, sandy beach of Platamonas. Platamon Palace Beach resort is a 5 stars all inclusive hotel which offers 232 newly renovated guestrooms with the latest in room facilities.
The beach in front of Platamon Palace Hotel has a length of 100 meters and it leads to the crystal clear (awarded with blue flag) sea.
Hotel Facilities
The Platamon Palace Beach Hotel disposes 2 pools and 1 children pool, playroom, playground, 1 tennis court, basket, 5 x 5 soccer court, ping pong, billiard, beach volley, water sports and diving center from local suppliers, mini market, car rental, jewellery shop, room service, wake up call service, laundry and ironing, as well as a spacious parking.
The Main Restaurant of Platamon Palace Hotel, with a huge veranda operates during the summer months, where high aesthetics and excellent service dominate, with view to the pool and the sea. In the Main Restaurant of our hotel you can enjoy a rich breakfast while for lunch and dinner you can taste great Greek traditional specialties and international cuisine at buffet style. Great attention is given to the quality and freshness of food, which is emphasized with the process of show cooking (the chefs prepare food in front of our guests).
There is also a Main Bar, Pool Bar, Beach Bar, a Mediterranean "a la carte"  Restaurant and a Snack Bar – Taverna.
Rooms and Facilities
The hotel Platamon Palace offers a variety of accommodation from double rooms to spacious villas, suites.
There are 5 executive suites with Jacuzzi and one presidential suite of high aesthetic and discreet luxury, (125 m²), where at the spacious veranda with the spectacular view, your senses will be guided to the ineffable magic and calmness of the natural colours of the divine mountain and the sea breeze. Finally, you will find five Villas in maisonette style of high quality, build in the beautiful gardens of Platamon Palace Hotel.
All the rooms in Platamon Palace Hotel have side sea view with a spectacular sight, over the sea and Olympus or Kissavos Mountain and comprise air-condition/heating, satellite TV, telephone, fridge and hairdryer.
Double room
Sea side view, Main Building, indoor 20 m², sleeps max 2+1
Modern and elegant rooms with double bed or twin beds, bath tube, independent air-condition & heating, satellite TV, fridge, hairdryer, and in–room safe (extra charge).
Platamon Palace Luxury Suite
Sea side view, Main Building, indoor 52 m², sleeps up to 4
A deluxe category of the main building accommodations with double bed, shower, Jacuzzi, double wash basins, teapot, double settee bed, independent air-condition & heating, satellite TV, fridge, hairdryer and safe box with extra charge.
Villa in Maisonette style
Garden view, indoor 80-90 m², sleeps 2+1
An amazing choice for those who wish intimate atmosphere and luxurious design. The suites enjoy two floors, bedroom with double bed, lounge with fireplace, sauna, Jacuzzi, shower, two WC, teapot, independent air-condition & heating, satellite TV, fridge, hair dryer, safe box (extra charge) and spacious veranda with sun beds.
Platamon Palace SPA Hotel
The wish for good health, corps attraction, muscle power and self confidence exists in every human no matter of sex. However, despite the innate compulsions, thousands of people oppress their will for the "well being" of their physical situation. They follow a way of living that eliminates their physical and spiritual euphoria, restraining at the same time, their functionality inside the society. Physical expression through intense exercise is as old as the human being. The more healthy and intelligent among the cave men and not only them lived and became leaders of their team.
Getting back to today, we see that our way of living makes our physical living impossible. Free time has become a luxury. So the measures that human take concerning their physical situation must be fast and produce quick results. The trend of the past years among specialized professors of physical action is to avoid time consuming exercise. This place has taken upon the use of aerobic and anaerobic exercise that has become internationally accepted as the only way to stop the physical devolution of the humans.
Here in Platamon Palace Hotel and SPA, having as an aim the continuous upgrade of our luxury Hotel SPA service and the amelioration of the facilities that we offer you, we created a hyper modern Spa center of 1000 m2, always aiming higher for the future.
At the Spa Center of Platamon Palace Hotel you will find:
Hammam, sauna, laconicum, adventure shower, private hydro massage, power plate, gym, heated pool with hydro massage, massage, relaxing back and leg, body face.
Special Holidays in Platamon Palace
The following holiday programs can be booked in combination with Platamon Palace Beach & Spa Hotel:
Paragliding Holidays for paragliding schools and groups of pilots
Hiking Holidays at Mount Olympus

Nature and Culture Olympus selfguided
extension holidays for Trekking Olympus and Crossing Olympus
If you wish to relax and enjoy a beach holiday you can book only accommodation.
Platamon Palace is ideal for families, individual travellers and groups.
We can organize for you a rental car, day activities and sightseeing tours during your stay.
Photo Gallery